Posted by Clare Maness - 60X Staff Shooter on Apr 28th 2023
For those who can't resist the proverbial siren's call of the open road and the seductive twang of a 60X bowstring, chasing archery tournaments and adventures across America in an RV may seem like a no-brainer. Heck, who doesn't love a good road trip, especially if it involves shooting archery tournaments almost every weekend? Sure, the adventure may look a little different when the windshield in front of you happens to be attached to a 32-foot Class A machine that has grown a little long in the ol' tooth (meaning a twenty-plus-year-old RV that may or may not produce hot water and reliable sewage services on demand), but no matter what, it's going to be a good time.
Regardless of the challenges of coddling our old "land yacht" along and coaxing her to keep going, 2022 and the first part of 2023 have given me (and sometimes my husband, who has to travel a lot for work, so he doesn't always get to ride along for all the fun) and our "fearsome" brindle rescue mutt the "dreamlife" of duct taping our old girl together and crisscrossing America with bows and arrows in hand. For 2022, we started off with local shoots around Texas. Then came the Vegas Shoot, NFAA Indoor Nationals, and each USA Archery USAT qualifier, with the summer sending me up the eastern side of the United States for a combination of targets and ticks (all that field-archery in the woods!).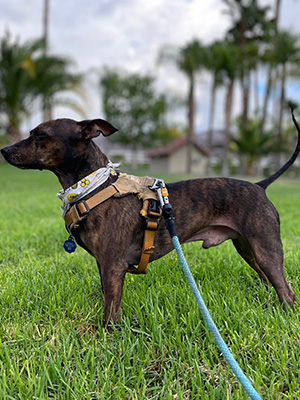 Tallying up the year, I shot at something like 60 different venues, from a suburban field course outside the Windy City that included narrow platforms and shots from running creeks, to empty lots with a Rinehart cube, I definitely got to see America. After the USA Archery Outdoor Target Nationals, I swung through Valley Forge. In the Midwest, I found myself in Yankton, South Dakota, multiple times, mostly to enjoy the fresh baked goods at Muddy Mo's Coffee House, but I also hit up NFAA Target Nationals and the Dakota Classic.
Through the holidays, we took in the West Coast, spending sundrenched Sundays on the field course in San Diego's Balboa Park and then walking the deck of the USS Midway, in retirement at a museum in San Diego Bay. When 2023 rolled around, we turned back toward Vegas, and then set off for Utah, to take up residence in the Easton Center in Salt Lake City and enjoy some fantastic community theater in the Beehive State. We are currently on our way to Phoenix to start another USAT season.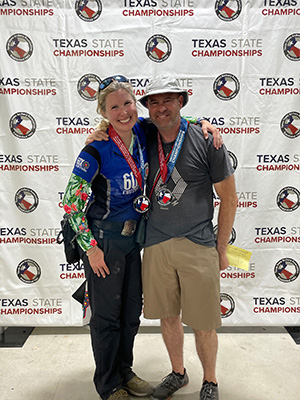 The highlights of all this gallivanting around have come with the field-archery events. Yankton last May for USA Archery's Field Nationals and World Team Trials gave shooters a muddy, steep, challenging set of courses. While some competitors had suggested that the venue might be too flat to produce the kind of exciting shots that make a person second-guess their elevation "cuts" for unmarked distances, in fact, the courses ended up being great. Scrambling up, sliding down, clinging to ropes and gear and muddy precipices, we all definitely got our money's worth at this one, with a bit of rain tossed in to boot.
Likewise, the NFAA and the Mechanicsburg Sportsmen's Protective Association outdid themselves with NFAA Field Nationals in Mechanicsburg, Pennsylvania sat in the heart of Pennsylvania archery country. The event spanned five days and competitors could choose to shoot up to five days, with only three being required; shooters had the option to throw out their lowest scores if they did shoot that much. Staying in the area, I got to practice at Lancaster Archery Supply (and spent a little more money than I should have) and at the indoor 3D range at Xtreme Archery in York, Pennsylvania. Camping where we did, Gettysburg National Military Park wasn't far away. For a history buff (read: total nerd), Gettysburg is overwhelmingly powerful. It overflows with history and national heritage (and with stacks of books to buy and absorb). For my husband, who likes a good post-adventure "beverage," it also provides trendy local breweries and craft IPA beers.
Beyond these event-specific highlights, throughout all our archery road trip adventures, a big part of the fun has been meeting other shooters. Through Instagram, tournament connections, and time at local shops, we've gotten to know so many cool archers, some of whom have developed into fast friends—and over and over, our adventures have confirmed that life on the highway definitely means letting the good times roll.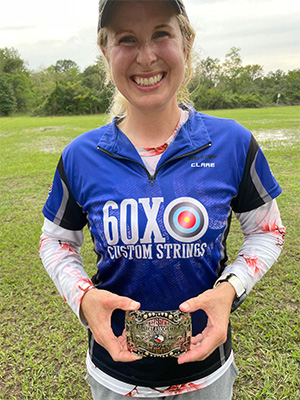 Clare Maness has shot for 60X since 2021. She loves her Olympic recurve, her brindle-pup sidekick, and tricky 80-yard field shots. She currently holds all NFAA outdoor records (target and field) for women's recurve and is ranked 18th nationally for USA Archery. You can find her on Instagram at @girltalkarchery or at www.girltalkarchery.com.