Posted by Todd Lambright on May 9th 2019
It's always a great time to get into archery. Whether you're shopping for yourself or your child, using the best entry level bow is the key to making your new hobby enjoyable. It's just like learning a new musical instrument — the gear you use makes a big difference. Fortunately, there are some fantastic bang-for-your-buck bows available on the market these days.
Here's a quick lineup of some of our favorite bows for beginners:
1. Genesis Original
Genesis bows are outstanding no-frills bows that get the job done right, They're streamlined, reliable, and easy to use, and they look great too. This bow is the official bow of the National Archery in Schools Program (NASP), and it's used by more than 18 million children in over 14 thousand schools worldwide.
While it's clear that the Genesis Original is one of the best entry level bow options for kids, these bows are equally at home in the hands of adults. These unique bows are designed to fit nearly anyone, so it's a perfect choice for a parent and adult who want to get into the sport together.
One of the big reasons why so many people choose the Genesis Original as their first bow is because it has one single cam. That simple design is perfect for beginners because there are fewer parts, so less can go wrong. The single cam design helps new archers shoot more accurately, and it also reduces noise, recoil, and tuning problems.
Another reason why this is the best entry level bow is simply that it looks stunning! Let's be honest — you want a bow that you can be proud to wield. The Genesis Original has a classic-yet-modern look, and it comes in a huge range of awesome colors. After upgrading your bow with our custom strings, you'll have a unique rig that you can be proud to use at the range or in the backyard.
Pro tip: Genesis also makes a Mini model if you want to start your kids early!
2. Diamond Archery Infinite Edge Pro
The Diamond Archery Infinite Edge Pro is considered by many to be the best entry level bow for new archers who want a compound bow they can grow into. It's reasonably priced, and it delivers a whole lot of pro features. This is a bow that's fairly easy to learn on, but as you get better at shooting, you can tweak it to match your skill level.
The biggest reason why this is such an amazing beginner's bow is that the draw weight is adjustable from 5 to 70 pounds. One of the most common beginner mistakes is choosing a bow with too high of a draw weight. Not only is it difficult to draw the bow, but it can be quite dangerous in inexperienced hands. Being able to adjust it to your exact preferences is huge.
This bow comes fully loaded with plenty of other features too. It has a fast 310 FPS shooting speed, a fixed-pin sight with three pins, a stabilizer to reduce noise and vibration, a containment arrow rest, and much more. This is easily the best entry level bow for someone who wants to start at the range or in the yard and eventually move into hunting and/or competing.
3. Bear Archery Cruzer G2
This is another bow that will provide years (if not a lifetime) of enjoyment. The Bear Archery Cruzer G2 comes fully loaded with all types of bells and whistles, but it's still a great choice for beginners too. This is a fantastic choice if you want to be able to use your bow for hunting as well as recreational shooting.
One of the best things about this bow is its incredible durability. In fact, it might be the best entry level bow for those who plan on bringing their rig into the great outdoors on a regular basis. The riser is made from machined aluminum and EnduraFiber.
The result is a bow that you can count on to last for the long haul. Beyond the overall quality, this bow comes loaded with pro-quality features that will age beautifully. There's also a Lite model for the younger archers.
4. PSE Surge RTS
The PSE Surge RTS is the perfect bow for new archers focused on hunting. While you can still use it for recreational and competitive shooting, it really shines in the woods. To put it very simply, this is the best entry level bow for hunting because it's quiet, accurate, and fast. With a 320 FPS shooting speed with 350-grain arrows and 280 FPS with 425-grain, you'll have no problem taking down even big game.
5. Mission Craze
The Mission craze is a budget-friendly bow that's perfect for beginners because of its incredible adjustability. You can adjust the draw weight from 35 to 70 pounds, and you can adjust the draw length from 19 to 30 inches.
That's a huge range, meaning that pretty much anyone should be able to find a sweet spot with this versatile bow. If you want a bow you can share with friends and family of all ages and skill levels, this might be the best entry level bow for you.
Besides its outstanding adjustability, the Mission Craze is an excellent bow in its own right. It shoots fast, smooth, quiet, and accurate with very little vibration and recoil. It's also one of the more affordable bows on the list, making it a great choice for anyone who wants a quality bow without breaking the bank.
Upgrade Your Bow with Custom 60X Bow Strings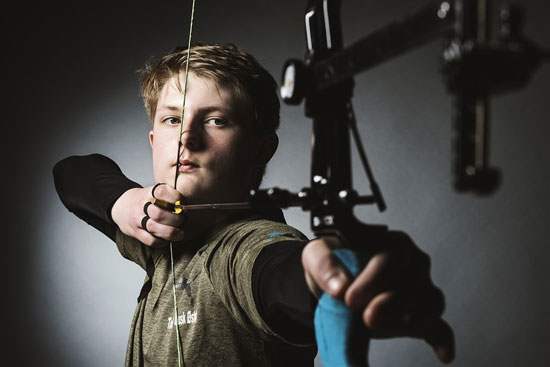 All five of these entry-level bows will treat you right. You might be a beginner now, but with plenty of practice and 60X Custom Bow Strings, you can become a champion! That said, replacing the stock string is a simple and affordable upgrade that can make a huge difference in your new bow's performance and feel. After all, even the absolute best entry level bow has to cut corners to keep the price down, and that's why they tend to have cheap, low-quality strings and cables.
We proudly offer custom pro-quality strings and cables for all of these bows and more. In fact, we can make custom strings for any bow or brand. Besides improving your bow's performance, we offer a huge variety of colors so you can get the perfect look.
Call us at 724-525-3972 or message us online for help selecting the right strings for your new bow. Our friendly experts can assist you every step of the way. Start with the best entry level bow, and then take your rig to the next level with custom strings from 60X.