Posted by 60X Ambassador, Kenneth Sasser on May 25th 2023
The Total Archery Challenge (TAC) is an awesome way to get out of your comfort zone. From shots ranging between 30-120 yards, to tight shooting lanes with twigs, leaves and even hidden vitals, this is also a great place to meet new friends and make remarkable memories. The events are packed with archery vendor booths from all over the USA, local bow shops helping to fix and set up new equipment and some of the best views.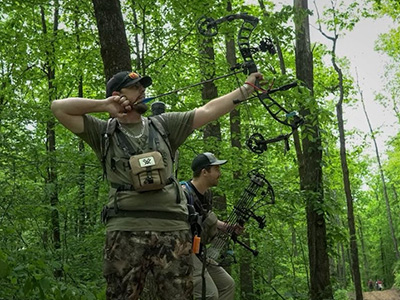 Preparing for TAC
While there are plenty of great things to say about TAC, there are a few things a first timer should consider in the weeks and months leading up to the TAC event:
Bow setup: Make sure to take a good look at your entire bow. This will make for ease of mind and trust in your equipment while on the mountain.
Strings and cables: Make sure your strings and cables aren't fraying and don't need to be replaced. Apply some string wax while you're doing this. A failing string system could end your trip early or have you in a scramble trying to get a new set. It's best to always have a backup set on hand in case you get into a bind with your bowstrings.
Sight: Depending on which course(s) you choose, you can find yourself shooting ranges from as close as 30 yards all the way to 100+ yards. Having the right sight can make a world of difference on the mountain. I would definitely consider having a sliding sight for this event. The yardage adjustability makes dialing in on a 12 ring even more possible.
Arrows: I recommend carrying at least a dozen. Include a few more if you're new to long distance shots in heavily wooded areas. My wife and I lost a total of 9 over 2 courses. Thankfully I brought two dozen along since this was our first TAC event. Having the same arrow setup of that dozen is crucial as well. If you're dialed in with a specific setup and have really good groups, keep that same build in mind if you need to pick up more arrows before your nock time (spine, length, weight). Speaking of arrows, get a visual on your arrows as well. Check for cracks, splinters or chip away.
Physical Conditioning
You should also factor in physical conditioning as you're preparing for the TAC.
Physical Conditioning: Are you ready to hike the mountain? These courses are typically between 5 and 7 miles of rugged mountain terrain with 25 targets throughout. Prep with a 5 mile walk once a week and include hills when possible. This will really benefit you when you're climbing the end of the Black Rifle or Sitka course.
Footwear: It's not all fresh dirt paths or concrete sidewalks leading you to your next shot like your typical archery ranges. Rutted roads, thick vegetation, slick mud and loose gravel are just a few highlights of what you'll be walking on. Make sure you have a supportive, comfortable pair of hiking boots or shoes. I chose waterproof hunting boots, but my wife chose to wear comfortable tennis shoes. Needless to say, her feet were sore and soaked at the end of our Friday Black Rifle Coffee Course.
Backpack: To backpack or not to backpack? Extra weight on your shoulders can really drain some energy fast. While you're training for the distance, try to throw on a backpack with at least 20lbs. This will help build shoulder muscles to reduce fatigue going through the course.
What to pack if you choose to take a backpack
Consumables: Water is provided halfway through each course, but definitely plan to carry a bottle or 2 on hand in case you need it before or after the water stations.
Snacks: We took a couple granola bars in our backpack, as we were in a rush both days and didn't grab breakfast. These came in handy by the time we made it to the water stations.
Clothing: Heat will play a role in most archery events throughout the year. Along with rain, we got to experience both while we were there. Pack the right clothing for any conditions that may arise. I recommend rain gear.
Tools: Try to pack what you would need most in a pinch.

Allen pack: Set your bow down, bump a limb or worse your sight. This will be there for those dark times.
Backup release: You really never know if you'll need it but it's better to have it than to not.
Arrow puller: This neglected tool will save your hands after pulling multiple arrows through multiple days.
Bow attachment/ or sling: I carried my wife's bow on my backpack about 1/4 of the time we were on the courses. This helped to conserve some of her energy and wasn't too much of a hassle since I only had the essentials on hand in my backpack. Just be careful while walking to not damage your cams or strings on branches or rocks.
Overall, The Total Archery Challenge is a great place to enjoy the sport of archery and be consumed by the outdoors. If that sounds like something for you then go for it! Just make sure your bow is ready, your body is prepared and you're ready to have the time of your life. They don't say "Life, it's better with a bow" for nothing!
I challenge you to take on the course, test your limits and pursue some foam vitals! I truly believe if you're reading this then you have what it takes. If so, I look forward to seeing you on the mountain!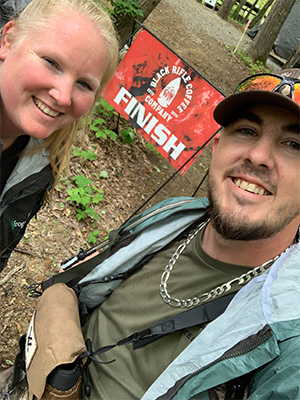 Author Bio: Kenneth Sasser is a proud father of two girls, husband and adult-onset hunter from North Carolina. He has been slinging arrows for over three years and teaching his wife and daughters along the way. His recent focus is diy at home archery work and dialing in his setup for deer season. Kenneth has been at it with daily reps all the way out to 120 yards. Working with 60X has been a dream come true with the growth of his passion and determination to push the envelope and spreading the love of the sport. It's safe to say the archery bug has bitten him and he has no plans on looking back.